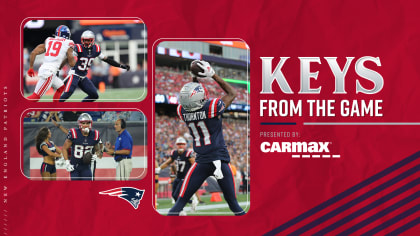 5 Keys from Patriots preseason loss to Giants
Published
August 12, 2022
Of course, it's not the wins and losses that count at this point, but rather the players who flashed on the game field, providing excitement as the summer continues to progress and plenty of new faces showed up in the contest, with rookie Tyquan Thornton scoring the first touchdown, Terrance Mitchell forcing a fumble and Mack Wilson showing off some newfound speed for the middle of the defense.
Some notable big names did not suit up against the Giants, headlined by quarterback Mac Jones, most of his starting offensive line, save rookie Cole Strange, and a number of defensive starters like Ja' Whaun Bentley, Lawrence Guy and Davon Godchaux, along with the top three returning safeties.
With joint practices with the Panthers and Raiders rapidly approaching, there will be plenty of live work for those important players over the next two weeks. On this night though, it was a chance for many young players to get their feet wet in the NFL, and for some of the new veterans, a chance to get their first action as Patriots.
After a strong start to training camp, Tyquan Thornton carried it over to the game field, scoring the team's first touchdown of the season with a nice move along the backline of the end zone, juking his coverage and making an easy grab for six points. Despite being known for his long speed, Thornton is showing development in his route running nuance that can help him get open in small spaces.