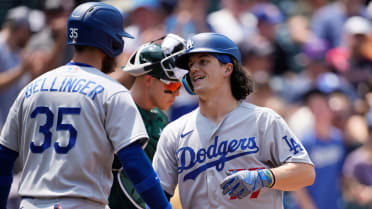 From 'caveman' swing to historic debut for Outman
DENVER — When James Outman was called up from Triple-A Oklahoma City on Saturday, the 25-year-old outfielder and the Dodgers' No. 17 prospect was asked a multitude of standard questions for a ballplayer on the precipice of making his Major League debut. He was asked what time he got the call, who he told right away, how the trip was to join the club, etc.
In the Dodgers' 7-3 victory over the Rockies on Sunday afternoon at Coors Field, Outman's swing didn't resemble the swing a caveman might take. It looked like one an out-man would take — as in, a man who hits baseballs out of the ballpark. It wasn't stiff and without substance. It was a smooth, quick stroke that produced an immediate, prodigious result.
In his first Major League plate appearance, Outman launched a home run off of Rockies starter Germán Márquez that traveled a Statcast-projected 405 feet to right-center field and into Colorado's bullpen to give the Dodgers a 2-0 lead in the third inning. With the two-run shot, Outman became the eighth player in franchise history to homer in his first big league plate appearance, and the first since Keibert Ruiz on Aug. 16, 2020.
Outman said his mind went blank when he was rounding the bases, and when he was asked what was said to him when he reached the dugout, he said he didn't remember anything that happened over the next 30 minutes.