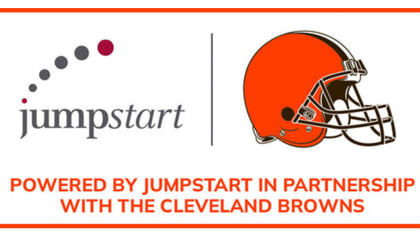 JumpStart and the Cleveland Browns Announce Partnership to Support Cleveland-Area Small Business Owners
Published
August 22, 2022
JumpStart and the Cleveland Browns are partnering to co-host four events focused on accelerating the growth of Cleveland-area Black and Hispanic/Latino-entrepreneurs. The events, powered by JumpStart in partnership with the Cleveland Browns, will be held at FirstEnergy Stadium; registration is free and open the public, as space remains available.
The partnership between JumpStart and the Browns will create opportunities for entrepreneurs to engage with free, hands-on workshops, industry-specific advising and networking events, as well as gain access to small business resources.
"Cleveland-based JumpStart is a national leader in providing meaningful mentorship and development resources to minority-owned businesses, and we have a special opportunity through this partnership to address critical economic needs that will benefit Northeast Ohio in both the short and long term," said Haslam Sports Group Senior Vice President, Communications Peter John-Baptiste. "The Cleveland Browns have a long-standing commitment to advancing social justice and diversity, equity and inclusion efforts, including through Inspire Change, Be the Solution and our community programming. Through these upcoming events led by JumpStart's expertise, we can further strengthen our support of diverse local entrepreneurs and minority-owned business growth, as well as measure the impact to identify new avenues to maximize impact in this area."
JumpStart is committed to helping entrepreneurs grow by providing high-impact services, pathways to capital and critical resource connections. The Browns aim to advance social justice initiatives throughout Northeast Ohio including championing economic mobility for minority and black-owned businesses. This partnership will help bridge resource gaps and accelerate economic outcomes for Black and Hispanic/Latino small businesses throughout the city of Cleveland.