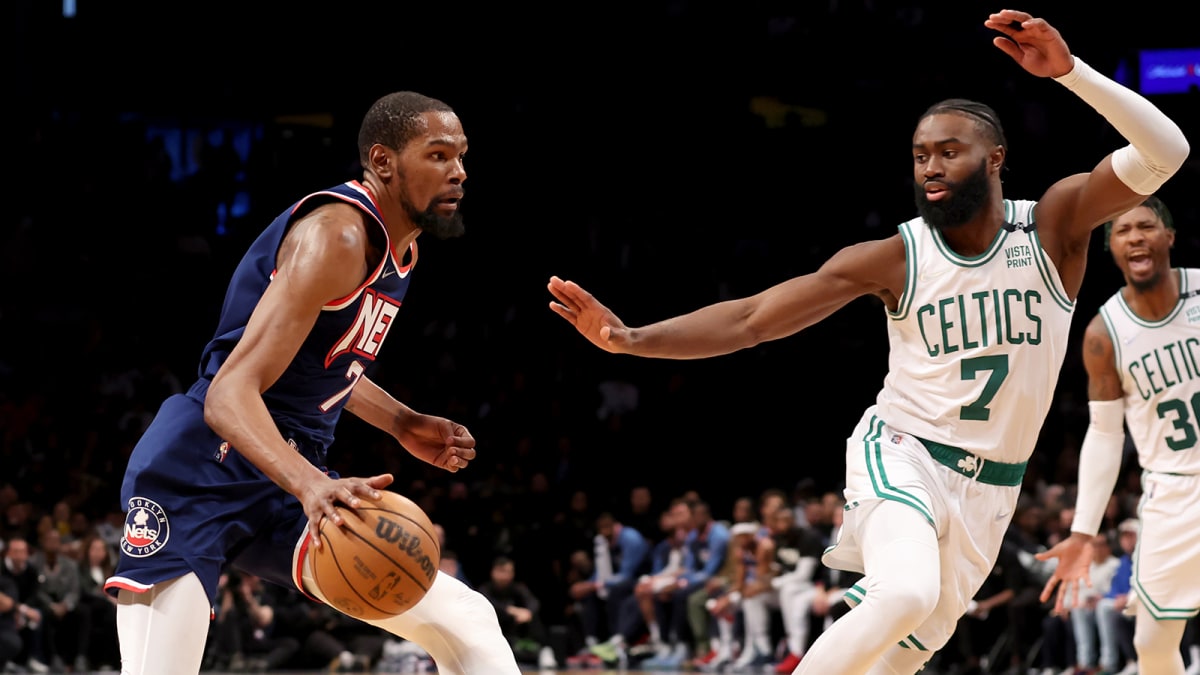 Why the Celtics Are the Favorite to Land Kevin Durant
It should come as no surprise the Celtics have emerged as a landing spot for Durant, as ESPN and The Athletic reported Monday. As Sports Illustrated wrote several weeks ago, Boston was always a natural landing spot for Durant. Not only are the Celtics, finalists for the first time in more than a decade last season, the kind of contending team that would make a run at Durant, they are also armed with the assets to get him. Jaylen Brown is 25, an All-Star with two years left on his contract. Boston could include one or more role players (Derrick White, Grant Williams) and have a few more years of draft picks and/or swap rights to deal.
I'd even go as far to say that, as of right now, Boston should be considered the favorite to land Durant. Consider the landscape: Phoenix couldn't make anything work while Deandre Ayton was a free agent, and now that he has signed a four-year, max-level extension—one that makes trading him anywhere impossible until Jan. 15, after which the Suns would need his permission in the first year—Phoenix's options are limited. Miami can't trade Bam Adebayo to Brooklyn, per NBA salary rules, as long as Ben Simmons is on the Nets' roster—there are some in the NBA that don't believe the Heat would trade Bam for Durant, anyway—and a Tyler Herro–headlined package isn't enough. Warriors GM Bob Myers has shot down the possibility of Golden State reacquiring Durant. And there has been no traction with Toronto, I'm told, with the Raptors showing no interest in trading Scottie Barnes. There's been some chatter about Utah getting involved, with Donovan Mitchell routed to Brooklyn and a boatload of draft picks landing in the Jazz's lap, but there's nothing substantive there, either.
Why would the Celtics want Durant? Skeptics will point out that oddsmakers have made Boston title favorites without Durant. The Celtics loaded up in the offseason, adding Malcolm Brogdon and Danilo Gallinari, and remain on the hunt for a backup center. Brown averaged nearly 24 points per game last season with higher shooting percentages from the floor (50.6%) and three-point range (37.3%) after the All-Star break, when he—and the Celtics—got healthy. If Boston had rallied to beat Golden State, there's a decent chance Brown would have been Finals MVP.
But here's the thing: Try to tell the Boston brass the Celtics are a sure thing for a return trip to the Finals. They know that if the Bucks' Khris Middleton was healthy the Celtics' season probably would have ended in the second round last year. And if Jimmy Butler had a little left in his legs, Miami would have won Game 7 of the conference finals against Boston. Meanwhile, Philadelphia has reloaded, and Atlanta and Cleveland will be better.