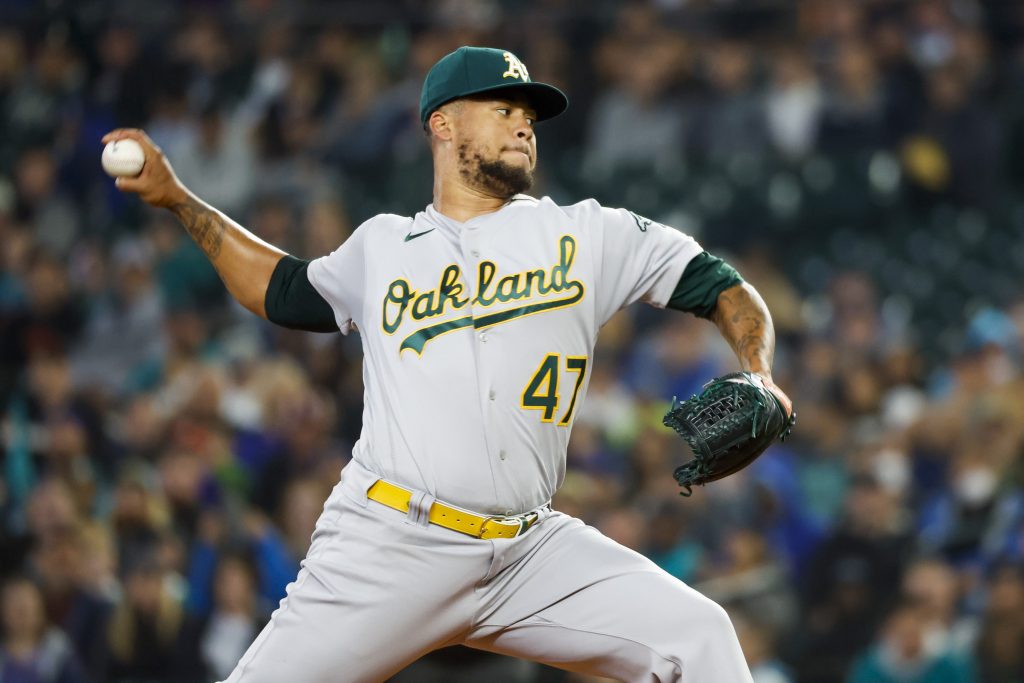 Yankees Acquire Frankie Montas, Lou Trivino
The Yankees have announced that they have acquired Frankie Montas and Lou Trivino from the Athletics. In exchange, the Athletics will receive pitchers JP Sears, Ken Waldichuk and Luis Medina, as well as second baseman Cooper Bowman.
Next to Luis Castillo and Tyler Mahle, Montas has been seen as one of the better starting pitchers available at the trade deadline. The Yankees had been connected to Castillo, but he was traded to the Mariners in recent days. The Yanks evidently turned their attentions to Montas in order to satisfy their desire for boosting their rotation.
Despite being a solid performer, Montas has seemed like an inevitable trade candidate for quite some time now. As the 2021 season finished and the offseason began, the A's were widely reported to be planning a massive sell-off of any player making a significant salary and/or approaching free agency. Montas was frequently cited among the trade candidates, next to Chris Bassitt, Sean Manaea, Matt Olson and Matt Chapman. Those four latter names were all moved between this winter's lockout and the beginning of the season, but Montas stayed. He's making just over $5MM this season, making him the cheapest of that group, but he only has one further season of club control remaining. Given that the A's aren't likely to return to competition in that time, it made sense to make him available to other clubs.
The Yankees have been incredibly healthy in terms of their rotation this year, with their front five of Gerrit Cole, Jameson Taillon, Nestor Cortes, Jordan Montgomery and Luis Severino all staying healthy for the first three-plus months of the season. As such, the rotation as a whole has logged 567 innings, the third-most in the majors, while also posting a 3.37 ERA that's third in the league. However, Severino landed on the IL a couple of weeks ago with shoulder tightness. While he's been out, Domingo German has made two starts but has an 8.22 ERA in those. When Montas reports to the team, he will likely bump German back to the minors or a long-relief role. If Severino can get back on the mound while everyone else is still healthy, the Yanks might have to make a tough decision about to fit everyone into the mix, but that would be a good problem to have in the future.